At morning rounds last Sunday, the resident following Ethan's case took a deep breath and listed his heart defects and his history up until now, stumbling a bit over some of the unfamiliar words. (
Kawashima
isn't really something most people need to pronounce on a daily basis.) She ran through the course of this surgery, quickly glossing over bypass time and cross clamp time in her hurry to get to the day's plan, which would be to send us home.
I should have been jumping for joy, but I stood in the hallway, rooted to my spot on the tile floor as everything went quiet around me and all I could hear was one phrase echoing in my head.
Nineteen minutes of deep hypothermic cardiac arrest.
Nineteen minutes.
My son's heart stopped for nineteen minutes two weeks ago and he's sleeping in the Boba right now, those four days in the hospital already fading away and feeling more like the vague memory of a nightmare. Except for this, those nineteen minutes and the fresh scar down his chest, I might as well have imagined the whole thing.
Maybe this is a gift, along with so many others, this forgetting and blocking out and not being able to remember how it felt when he stared up at me, shrieking and begging me with those huge eyes to just make it stop. Not exactly, anyway, though the dull ache around my heart left after it shatters all over again in those moments will, I think, never really go away.
I am a heart mama. Two surgeries down, at least one to go, syringes and stethoscopes joining the usual avalanche of baby gear, and it's one foot in front of the other and praying I make it through because this sweet face needs me forever and always.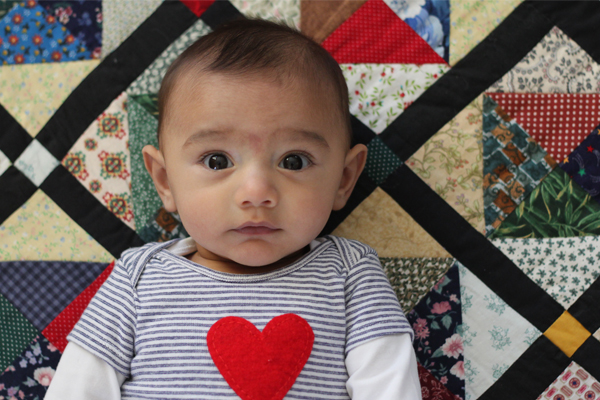 People tell me all the time that I'm special, that I was chosen for this, that I'm strong. Sitting here on the yoga ball for the hundredth nap in a row (I've been working on this post for almost a week now) and silently begging my baby to stay asleep long enough for me to finally eat something and spill a few thoughts out onto this virtual paper, though, I feel anything but that.
I know why people say it. From the outside looking in, that's exactly what it looks like. I've been on the that side, the other side, and I've looked at the mamas of the children under my care with something akin to awe. The way they spend hours and days and weeks at the side of hospital beds, unkempt and disheveled and always, always ready to spring into action the second the baby stirs. The long lists of diagnoses and medications and symptoms that they carry in their heads and can produce with no hesitation while the doctor fumbles with her papers to find the information. The way they push and push again, demanding good better best care for that helpless baby, all swallowed up by the giant crib around him.
Those mamas were my heroes. And then, without warning, I became one, and now I'm learning the truth behind those steely eyes.
You call it strength, but it's really desperation. The baby hasn't slept in a week and neither have I but I'm the one that he loves most in the entire world, so I have to stay awake because he needs me and maybe, just maybe, if I rock him for five ten fifteen a hundred more minutes he'll finally rest and then maybe I can too.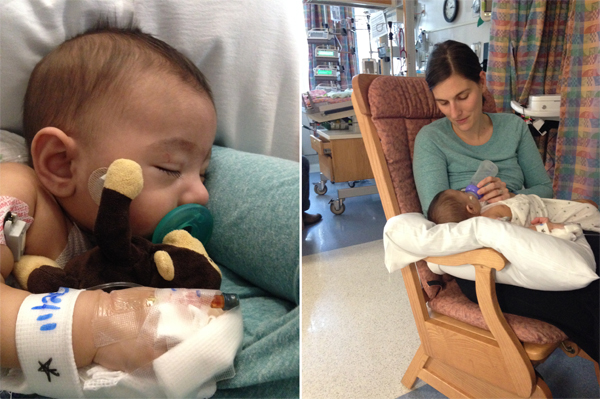 You call it strength, but it's more like fear. Fear that grips my chest in its iron fist and goads me into action when the numbers on the thermometer won't stop rising and I'm running through those lists in my head as I mentally pack a hospital bag because I'll need to know all of it, need to be able to explain every little nuance of my son's scattered body if those numbers keep climbing and send us straight to the emergency room do not pass go do not collect two hundred dollars.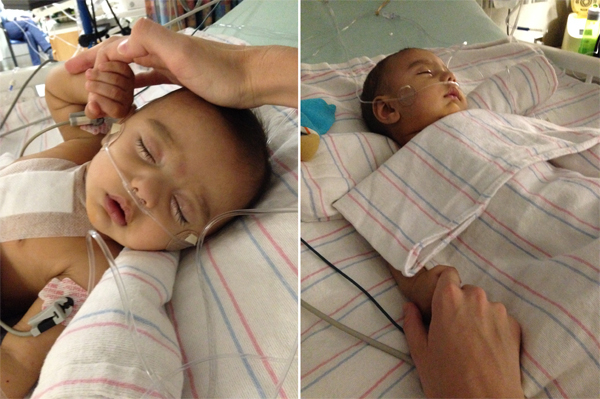 You call it strength, but I call it bravery, or whatever bravery should
really
be called when you're not sure from one moment to the next whether or not you're going to be able to keep from crying long enough to choke out the song your baby needs you to sing over and over and over again so he can finally stop screaming in pain. It's not that I'm a coward; it's just that mothering a baby like this so much harder than I'd ever imagined, and seeing that little piece of myself hurting is almost enough to make me want to run for the hills and hide somewhere all this can't find me, to pretend that everything is going to be okay when I know full well that it might not be.
So maybe that's what strength is. Equal parts fear and desperation and just enough courage to throw caution to the wind and love in the face of everything that could go wrong because when all this is over, whenever that day comes, that's the only thing that will have mattered.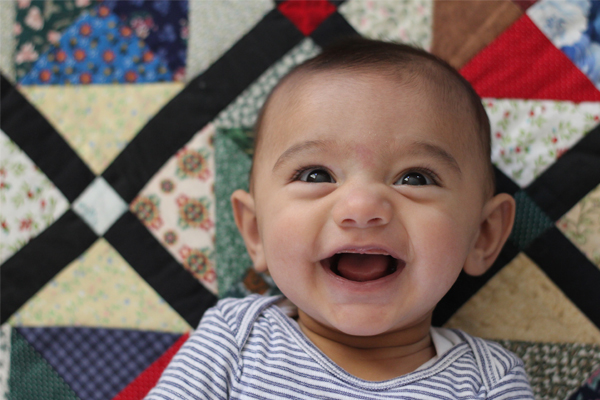 If that's strength, I'm the motherflipping Hulk.