It's CHD Awareness Week, and one of the challenges floating around the web is to post a picture each day this week for a certain prompt. Today's is
diagnosis
and even though a picture is supposed to be worth a thousand words, once I really started thinking back to that day I realized that I actually needed to write them out instead of just post a photo from that day, almost a year ago now.
I brought my sister with me. Of course I did; my husband was across an ocean in England and I needed someone to be there to share in the excitement of finally finding out who was inside me. I'm the sister with a medical background, so I was happily explaining everything that was happening, pointing out the things I recognized on the screen and gleefully reminding the tech that we didn't actually want to know the gender; I wanted her to seal it in an envelope for Phil and I to open 'together' over Skype later. Clearly the only real surprise at that ultrasound is supposed to be whether you're going to be using big sister's handmedowns or heading out to buy things that are a little less pink.
The tech didn't answer, just nodded, her eyes glued to the screen. I guess I'll never know whether she was just a quiet person or whether she didn't trust herself to speak as the images unfolded in front of her and we sat there, not knowing that these were the last few minutes of my not-knowing and that everything was about to be so different.
The room fell silent as I ran out of things to talk about. Ethan's heart danced on the screen in front of us, sliding in and out of view as the she inspected it from every possible angle and I finally started to realize that something was very, very wrong. I turned to my sister, the words sticking in my throat like poison, and voiced my growing fear.
If she leaves and says she's going to look over the images with the doctor,
I told her,
it means that there's a problem. It's not good. She shouldn't be looking at the heart for this long. Something's not right.
And so when the tech put away her probe and didn't meet my eyes while she told me that the doctor was going to have to see the pictures, the first tears came. There were more when I asked the doctor, kind and efficient, whether they just couldn't see what they needed to see or if they thought there was a problem, and she was good enough to put me out of my misery right away (or maybe into it, really) when she laid a soft hand on my leg and told me that, yes, there was something wrong.
They let me get up, pointed us across the hall to an office where I sat next to my sister and everything came crashing down around me.
This will be hard to hear,
the doctor said, and it was like I was losing my footing on the edge of a cliff with the wind howling through my soul and the waves crashing on the rocks a thousand feet below.
My baby sister held me while I wailed, while I tried to compose myself enough to listen to the list of defects and understand what the next step was, while I wailed again because there is nothing, nothing, nothing that can prepare you for the moment when everything changes.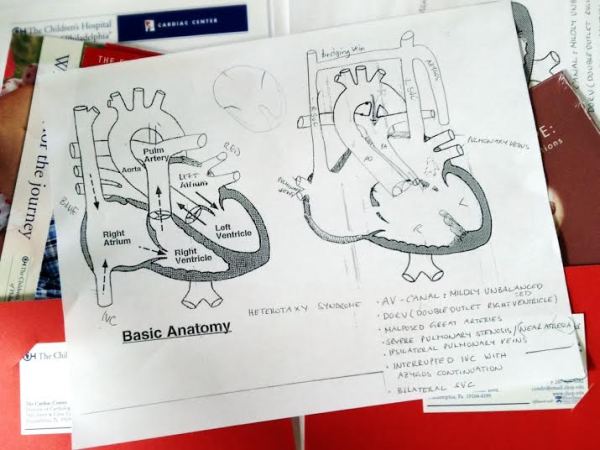 I've spent a lot of this afternoon thinking back to that day, letting myself crack open the tightly-sealed box where I usually keep those feelings. The day you get a diagnosis is a day that never leaves you; how can it, when it marks the end of life as you knew it and ushers you into an entirely new reality? The day you get the diagnosis is the last day of your innocence and the first day of the fight, and as impossible as it seems in the moment, you will somehow be able to find your feet in this new world.
I thought that Ethan's diagnosis was the end of everything, and in some ways I guess it was. It was the end of my perfect pregnancy and the end of the life we'd been living for six years (complex congenital heart defects and a ship off the coast of West Africa don't really mix). It was the end of being able to pretend that I had it all under control, the end of not worrying about every little cry and not needing to scrutinize my baby's colour with every little cough. (It took me an extra few hours to get this written, in fact, between the calls to Ethan's pediatrician and cardiologist and the waiting to see what would happen and whether or not I'd be taking a late-night trip to the ER after he spiked a random fever.)
But that day was the beginning of so much more than all that, as cliched as it feels to type that out and as much as it sometimes feels like I'm just trying to convince myself that it's true.
The day of Ethan's diagnosis was the day I stared my greatest fear straight in the face and realized that, somehow, I could still go on. It was the beginning of my life as a heart mama, a life that soon had me discovering a kinship with other women around the world who fight for their babies the way I fight for mine and are quick to offer humour and advice and a shoulder to cry on in equal parts. It was the day I found out that I am both so much more fragile and infinitely stronger than I thought possible, and knowing that has given me the confidence to be the one who speaks up for him, who fights for him to get the best care possible, who holds it together all the way until they roll him through those double doors.
If Ethan's heart had formed correctly, mine wouldn't be shaped the way it is today, all broken and patched and reinforced with that special kind of steel that's only to be found beside hospital beds and in waiting rooms and on the other side of endless, worry-filled nights.
His diagnosis stripped me of everything that didn't matter and left me holding nothing but a love that had suddenly grown past anything I recognized, a love that was all at once fierce and stubborn and desperate and so much more powerful than I ever thought possible.
Not bad for a broken heart.