Did you know that, along with being the perfect opportunity for Star Wars references, tomorrow is
Heterotaxy Syndrome Awareness Day
in the great state of New Jersey (and lots of other states across the country and even a province or two)? My guess is that you didn't; heterotaxy isn't a disorder with a viral social media presence. It's not a disease featured in gut-wrenching black and white PSAs with somber voiceovers, and yet the proclamation is sitting on my kitchen table right now, signed by the governor and reminding me every time I catch sight of its shiny, golden seal that heterotaxy is very much a part of my life.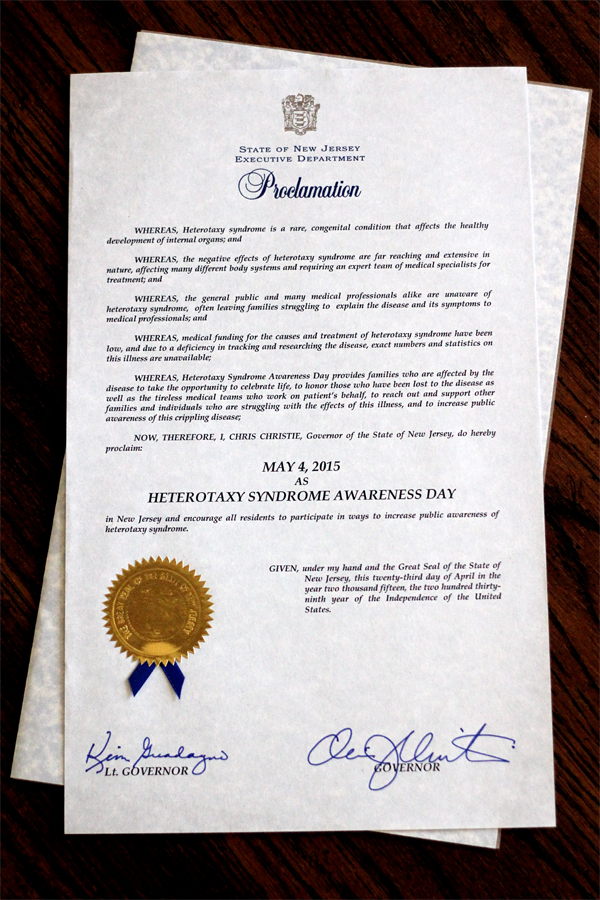 I might never have known either, not if I'd gotten any of the other ninety-nine thousand nine hundred and ninety-nine babies instead of the one little boy who fills my days and nights with his beaming smiles and his relentless need. Before that day last year (
the one where everything changed
), I had never even heard the term
heterotaxy
. I had no idea how all-encompassing, how brutal and fickle and downright terrifying it can be to live with your organs arranged like dice tossed carelessly out of a Yahtzee cup.
It's funny (in an
I know there's some humor in this, but right now I just feel like the kid who tripped and dropped her ice cream and the truck is nowhere to be found
kind of a way) that awareness day is now, right after a week that feels in some strange way like our true initiation into the heterotaxy world.
Yes, Ethan's had two heart surgeries. Yes, he's spent more time in emergency rooms and doctors' waiting rooms than a typical baby. Yes, he takes extra medications and gets extra vaccinations, but all this was part of the plan, as much as you can ever make a plan for a medically complex kid. We knew from the day we got his diagnosis that he'd be facing all this. But like I said, heterotaxy is cruel, and it sneaks up on you when you least expect it, and it smacks you upside the head and runs away laughing while you scramble to regain your balance.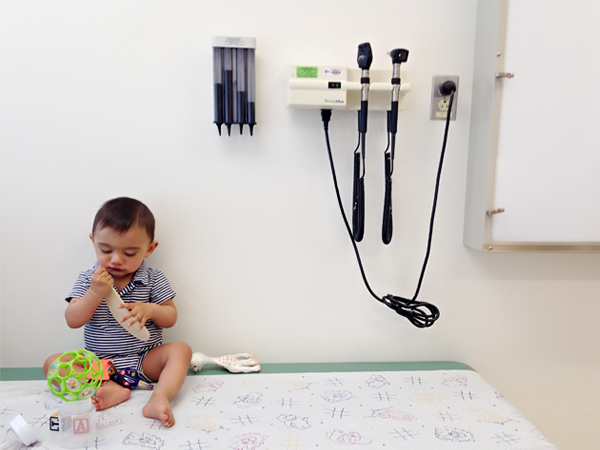 In the grand scheme of things, this past week should really be just a blip on the radar. A
fairly routine test
,
an afternoon spent in the ER
, some slightly abnormal results, and
a minor procedure
coming up to hopefully fix the issue for good. It's all very simple when you look at it on paper, but this boy of mine is anything but two-dimensional black and white.
And that's why heterotaxy is so scary: because it can affect every single system, and because it does it so randomly that you never really know what's coming next.
When you have something wrong with your heart, you go to a cardiologist. Issues with intestines qualify you for GI, and problems with plumbing send you to a urologist. If your lungs aren't working right there's pulmonology, and infectious disease or immunology can get on board when your spleen is the struggle. But there aren't any doctors for heterotaxy. There's just me, a mama who is suddenly the one juggling these balls (thankful in a way I never thought possible that I don't have to worry about
all
of them, just some) and praying every day that I don't drop one.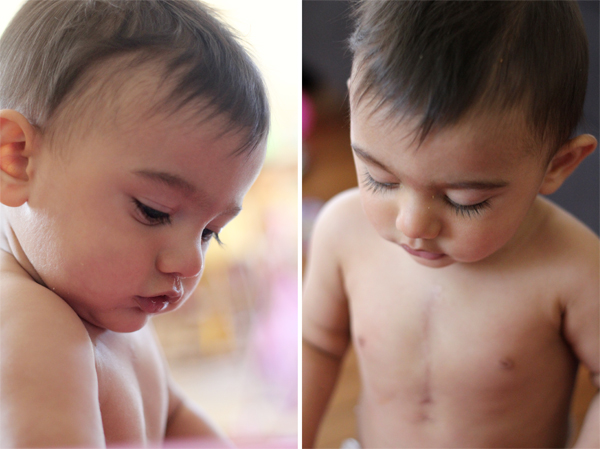 I'm the one responsible for this sweet face, and for all the jumbled up mess that's hidden underneath his perfect skin. I'm the one who holds him and sings to him while he screams himself hoarse during yet another painful procedure. I'm the one who has to meet his eyes when he begs me with his cries to make it stop, and I'm the one who has to let it keep going because the price for having him here is steep.
There are days (and nights, mostly) when every fiber of my being wishes that Ethan didn't have heterotaxy. I can almost feel the strength of my longing, like a vice around my own heart, when I have to watch, helpless, as my baby takes yet another punch. But at the same time, I know that wishing away his syndrome means wishing him away, and that thought is harder to bear than any other.
I think about it sometimes, lying in the dark and listening to him breathe next to me in the wee small hours of the morning, about who he would be without the scar on his chest or the sword hanging over his head, and I don't recognize any of the million babies that walk through my waking dreams. And so I turn to curl my body tighter around his as he nestles himself closer into my side, and I know without a doubt that this perfect boy with the broken heart is exactly the one I'm supposed to be mothering.
Don't ask me to believe this when he's in the operating room or lying in a hospital bed, but right now, in this moment of calm between the storms as he stumbles around the kitchen on still-shaky but oh so determined legs, I can say with confidence that heterotaxy is a gift because it gave me Ethan. The genes that spun his heart into something almost unrecognizable sit alongside the ones that turned his eyes the deepest shade of brown and molded his lips into the perfect cupid's bow, and so I can't find it in myself to want anything else, as much as I despise what that one little twist of fate means for his life.
Tomorrow is heterotaxy syndrome awareness day. We're more aware of this disorder than we ever wanted to be and more grateful than I ever imagined possible to have him here to mark the day with us.
Want to help us raise awareness? Here are a couple ideas! Wear blue and yellow (the heterotaxy colours) tomorrow, tell someone about Ethan and explain a bit about heterotaxy, or share a graphic on Facebook or Instagram (I'll be posting some on
Ethan's Facebook page
), and make sure to tag it with Ethan's hashtag (#ethans_heart) or the awareness day one (#HAD2015).
You are part of his journey, you who read and cheer and pray along with us, so it's only right that you celebrate with us, too.