It's the oldest cliche in the books, and I cringe when I hear it, even more so when I actually use it myself.
I just don't know where the time went! This year is flying by.
Cringe or not, it's exactly what I thought when I finally managed to open my eyes this morning, far later than the to-do list on my dresser would have liked. It's been more than two months since the HoJ and I landed ourselves back on North American soil, which means that it's high time we left it again.
We leave for Peru tomorrow.
As a farewell to my hometown which has treated us so well since we've been back, we wandered down to the local Chinese restaurant for the lunch special yesterday. I've been eating there since I was young, and I've recently introduced the HoJ to their pork fried rice. He is now, understandably, a die-hard fan.
Once our bellies were filled and we had our little cups of tea in front of us, we cracked open our fortune cookies and burst out laughing when we read our miniature prophesies. Their accuracy and relevance were uncanny.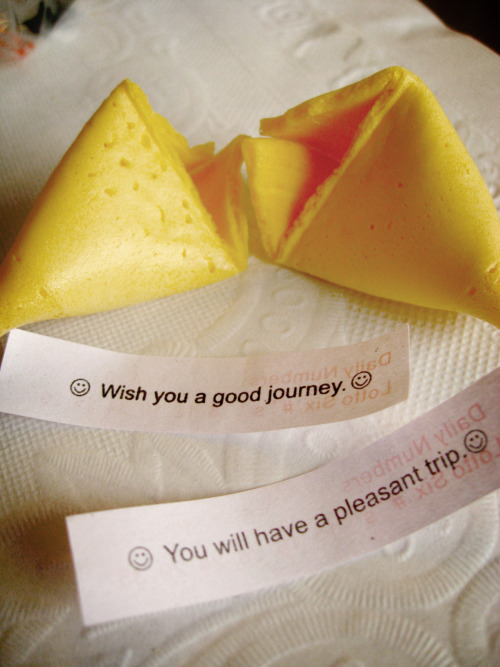 Tomorrow is the start of our next adventure, and I'm excited to be able to share it with you. I'll be the first to admit that I'm a little apprehensive. As we laid in bed last night, I couldn't shake the feeling. I think it's a mixture of things. The ship is getting closer and closer to Sierra Leone as I type this, and my heart is yearning to be there right now. (Yes, I said yearning. It's the closest I can come to describe the way it's trying to punch a hole through my chest wall and go soaring off through the air towards West Africa. Strange feeling, this.) And I'm headed in the opposite direction.
It's such a strange thing, knowing that I'm in God's will but wanting so badly to do something else at the same time; it's a pill I haven't had to swallow before. Up until now, I've been living out my dream life, getting to practice nursing among the most incredible people in the most incredible setting. And now I'm being told that the next five months of my life will take place more than six thousand kilometers away from them.
I think it's called obedience, and I'm not sure I like the taste of it. But I'm pretty sure, as with everything God plans for my life, that this is going to be so much better than I could have hoped.
So with that, I'm signing off until some unspecified time in the future when I find an internet cafe somewhere in the Amazon jungle. I'm going to go beat the mess in our room into tightly-packed submission, and tomorrow I'm getting on a plane heading south instead of east.
I think it's going to be awesome.
-----
Want to know more about where we'll be and what we'll be doing? Here are a few links:
YWAM - the organization we'll be working with
YWAM Peru - the website of the base where we're staying
DTS (Discipleship Training School) - a description of the course