Today, at the end of a long week, my heart is light. Coming back to a country that we visited only two years ago means that we have the chance to do further surgeries on patients we weren't finished with back in 2010. We have two of them on the wards right now, Noelie and Venant. Both needed another operation to remove the tumors that have started to regrow in their faces; Noelie had her surgery yesterday, and Venant is still waiting until we can get his blood pressure a little lower.
This afternoon, I got an e-mail from the screening team letting me know that another patient would be returning on Sunday to attend the plastic surgery screening on Monday. She'd be coming from far up country, so she'd need to stay overnight since she doesn't have any family here in Lomé. When I saw her name, I immediately left word with the team that I wanted to be paged when she arrived.
That page came sooner than I thought it would, and right before dinner I ran back down to D Ward to see
Tani
. She's a child who was burned at a very young age, losing her top lip, her nose, her right ear and eye and all the fingers on one of her hands. Back in 2010 we started the process of rebuilding her face, using skin from other parts of her body to create a nose and a top lip.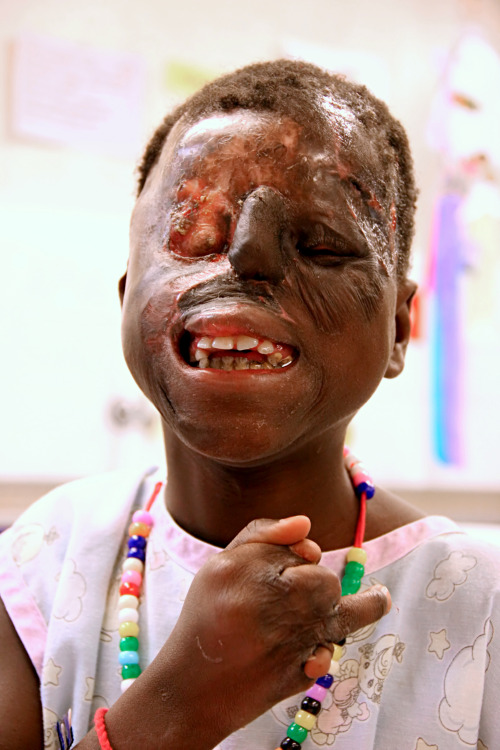 (This is an old photo of her from while she was still healing back in 2010; I can't wait for you to see how good she looks now!)
She was with us on the wards for fifty-six days while her wounds healed, and we came to love her. A lot.
Her eyes lit up when she saw me, and we sat together on the floor while she ate her dinner, leaning up against me like no time had passed. A translator sat with us while I chatted with her caregiver, a friend of her village pastor. (This is what community looks like. The pastor came as her caregiver last time, since he was the only one available who spoke enough French to be able to translate for her obscure tribal language. This time, yet another unrelated man has come all these hours to sleep under Tani's bed and care for her until she is well.) I caught up on the news from the village while Tani twisted around to smile up at me.
She's taller now, much more grown up, but she's still Tani, and it's pure joy to see her again. Her face has healed beautifully, her scars all smoothed out with the passing of time. The plastic surgeon, Dr. Tertius, arrives tonight, and he'll see her on Monday along with all the rest of the hopeful plastics patients. I'll let you know as soon as I know how her story will continue to unfold.
It's good to be back in Togo.