Zoe is ten months old today, officially more time on the outside than she spent hanging out inside me before she was born. I'm absolutely blown away by how quickly she's learning new things; it seems like every single day I'm marking down a new milestone. Well, except for the first tooth, since, as predicted, she's actually taken her first steps before managing to cut one of those. I can't exactly call it walking yet, since she's only done more than two in a row a couple times, but she's getting more and more confident on her feet every day. To be fair, she's
working
on a tooth, and it's a totally random one. The top, right snaggletooth is so close to poking its way out, but since nothing's broken through yet, she's officially made it to ten months all gums.
She waves bye bye and sometimes hello, depending on her mood. (Yesterday at the park, actually, I told her in Spanish to say hello to another little girl and she waved and said,
'la!
. She's gearing up to be bilingual, this kid.) Now that her best friend (the talker of the group) has left, she's realized that someone needs to fill the void so she's started imitating sounds more and more. If she's really feeling it, she'll say
buh buh
for bye bye, but this is usually reserved for Daddy, and she only gets it out once he's already left. Still a work in progress. She'll often say
ba ba
for bottle, and she's even given
gentle
, Hailey's favourite word, a shot. (Hailey's still the winner on that one.) She's started to initiate games with me, and will hold up a blanket to play peekaboo or run away from me so I chase her and tickle her.
She'll eat anything now, as long as it's avocado. Which is to say, our food struggles continue. She's definitely making some progress, and will sometimes eat pieces of actual solid food without gagging (pizza crusts, french fries and peach slices seem to be the top of that list), but usually we're still sticking with purees. This has gotten interesting since she won't eat jarred foods (good girl), and the galley crew has taken over the crew galley for the summer (bad galley crew). As a bonus, though, I'm getting really good at cooking things in my microwave.
She's growing by leaps and bounds, weighing in at nineteen and a half pounds, and she's shot up nearly two inches in the last month, nearly busting right off the top of the charts. She's also slept through the night twice since her nine monthday, and since I'd resigned myself to the fact that it might never happen, those two times were a real treat, let me tell you! She's just not eating enough while she's awake to make it all the way through without getting up to eat, and after watching her play and explore all over the place, I can see why. Besides, now that she's this active, our snuggle times, never very long to begin with, are pretty much nonexistent, so I find myself holding her an extra few minutes every night after her bottle's finished.
Speaking of bottles, she's officially been weaned onto formula, and, for the most part, I couldn't be happier. There are still some traces of mommy guilt hanging around at the edges of my mind for not making it to the magical year, but for the most part I'm completely satisfied with the decision. Anything that makes me like my baby more is a good thing, right? And this has definitely served that purpose, so I think we're good. Besides, it means that when she wakes up any time after 5:30, Phil's already up and can give her a bottle while I sleep in. This, my friends, is beautiful.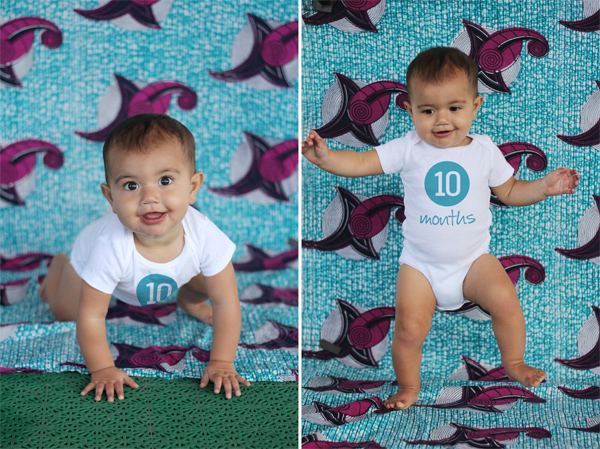 And speaking of beautiful, she is, with her big, brown eyes and ridiculously plush cheeks. I often look at her and wonder how on earth I've been entrusted with something so precious. And then I stop wondering and kiss those cheeks again before we head off on our next adventure together, my best buddy and I.