The day
everything changed
was the last day of winter. On Saturday the hardest spring of my life will give way to summer, and somehow I've lived through almost an entire season now, knowing that the boy inside me is anything but ordinary, a season marked by tears and laughter and more questions than I ever thought I could ask.
We moved into our summer place in Philly on Sunday, and it is honestly more perfect than we could have hoped for. There's a balcony that opens onto a view of the city that includes the hospital, just fifteen minutes' walk away.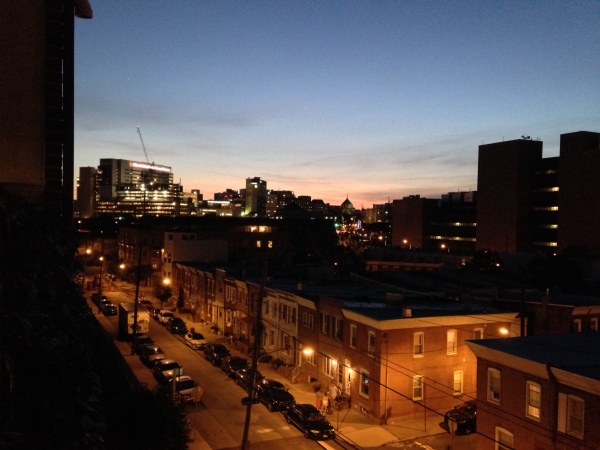 Zoe is enthralled with all the new toys she gets to play with, and spends lots of time cooking in her kitchen and 'reading' Greek books; she's already getting more cultured after just a day or two of city life.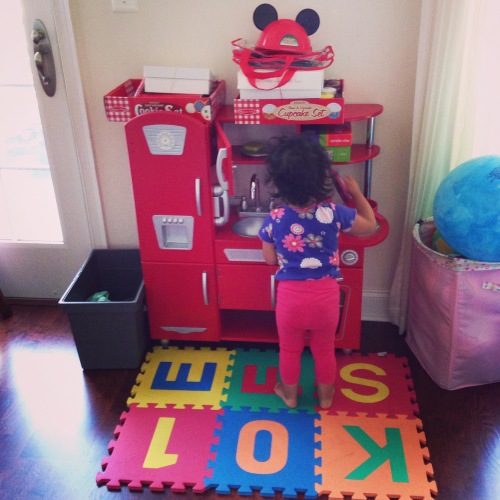 There are parks and a pool and we even found a play group here in the community where Zoe spent a giddy hour chasing after the big kids while they ran circles around her. Not only have the downstairs neighbours let us use a parking spot, but the couple who had originally offered us their apartment (the one that fell through) also had a free one for us, so my mum was able to bring her car down as well. She'll be staying with us through Ethan's birth to help care for Zoe, and having both cars means one less thing to worry about as we make our way back and forth.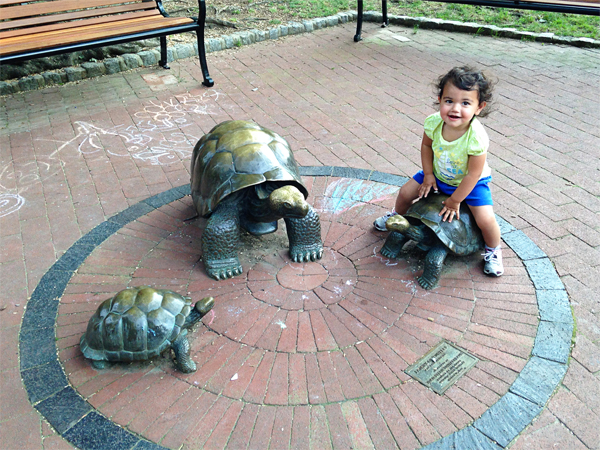 We had a prenatal appointment today, just a quick check of the fluid levels around Ethan (which were normal, pointing yet again to well-functioning kidneys) and a brief glance at his heart which was beating away at a strong 125. We got to meet with the Child Life specialist who helped us start thinking through some of the ways we can make this transition easier on Zoe and sat down with a couple of the nurse practitioners to talk through the plan for Ethan's birth and make our next appointment, which just so happens to be the last one we'll have before he's born. (This somehow came as a real shock to me, despite the fact that I'm usually pretty good with calendars.) We were also supposed to meet with the general surgeon to talk about Ethan's intestines and see whether there's any plan in regards to that side of things, but he got stuck in the OR so we'll hopefully get to sit down with him next week instead.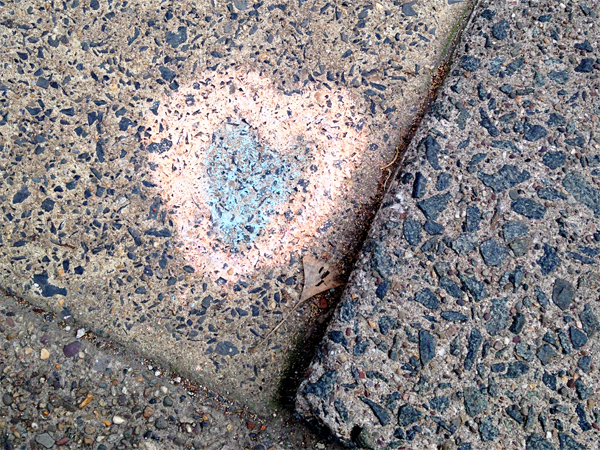 Two weeks from today the little one currently wreaking havoc on my insides will be fighting for his life on the outside. It's almost impossible to imagine that all this time spent waiting and wondering will end as the next chapter begins. I really don't know what to do with that thought, with the realization that in a thousand ways our lives will be changing in such a short time. The clock, it seems, is not my friend right now, and I'm rushing to fit as much as possible into the remaining days. Family photos and long walks to explore our new neighbourhood and trips to the zoo and anything and everything else I can think of that we won't be able to do once our time will be divided between hospital and home.
But when I look at what I've just written, when I imagine Ethan reading it one day, I realize that I'm not saying it right, because I don't ever want him to think that his life and his place in our family are things to be endured rather than celebrated. The logical side of me knows that medically complex children bring with them them a whole host of changes, but at the end of the day, this is still the baby we prayed for and hoped for and desperately longed for. We just didn't know back then who he really was.
It's a shock to realize that you've been picturing your child all wrong, an incredible, awful adjustment to pack away the dreams you had and exchange them for new, very different ones, but it doesn't make it any less beautiful that we're going to be welcoming him into our family in a few short days. It seems impossible that both of those things could be true at the same time, that I could be simultaneously overjoyed and scared to death, but it seems that impossible is par for the course these days and so I lie awake at night planning and wondering and praying and dreaming a whole new set of dreams. And soon enough I'll get to see which of those dreams are going to come true.
-----
Although it's maybe an abrupt change of subject, I have a few practical pieces to share today, too.
We've started a Facebook page for Ethan, and, for the most part, the day-to-day updates will be there. This blog will likely start to transition more to the personal reflection side of things; I'll update here with information and such, too, but not necessarily in 'real time' like over on Facebook since it usually takes me a while to compose my thoughts properly when I'm sharing my heart rather than just the facts. It also seems like Facebook is the easiest way to reach the most people in the fastest way possible (crucial when we're sending out prayer requests), so head over to
Hope for Ethan
and 'like' his page to get notifications when we post updates there.
Quite a few people have asked how they can support us financially as we walk this road, and we are so grateful for that since it looks like it will still be a number of months before we can get Phil's immigration sorted so that he can start looking for a job. Mercy Ships has been incredible throughout this whole process, going above and beyond to make a very hard time at least a bit easier. While we hope and pray that we will have Ethan with us for many long years to come, we're also realistic about the fact that his diagnosis means that there's a very real possibility that we'll lose him before we're ready. To that end, Mercy Ships has placed us on a yearlong medical leave, which means that we've been able to keep some of our stuff in storage on board, and we'll still be able to receive tax-deductible donations through our
Mercy Ships support page
. In addition, some amazing friends from the hospital I worked at before leaving for the ship recently held a fundraiser for us and set up a
gofundme page
where we are also able to receive donations.
Please continue to lift us up in prayer as we get closer to Ethan's birth. I'm having a lot of trouble sleeping at night now, normal end of pregnancy symptoms being multiplied by the mental calisthenics I seem to be doing when there's nothing else going on to occupy my mind, which means that the usual third-trimester exhaustion is being multiplied. Zoe has been amazing through all the many transitions, but she's still finding her her new routine here and her sleep has been a bit rocky, which doesn't help any of us, so please pray that she'd settle in quickly and easily.
God has been so faithful to us on this journey. I can't wait to share the next steps with you.