Today marked fifty-six days since Papakey's first surgery, the one to create a nose to cover the hole left when robbers with a machete made their indelible mark six years ago. Just before rounds, his nurse and I peeled away the dressing on his leg that covered the place where they took the skin that was used to cover the place on his head where they took the nose. (Confused? Everyone is when they first hear about this particular surgery.) What we saw led to much rejoicing. Papakey, self-proclaimed
Captain of the Ship
(but don't tell the real captain lest I be accused of fostering mutiny) was ready to go home.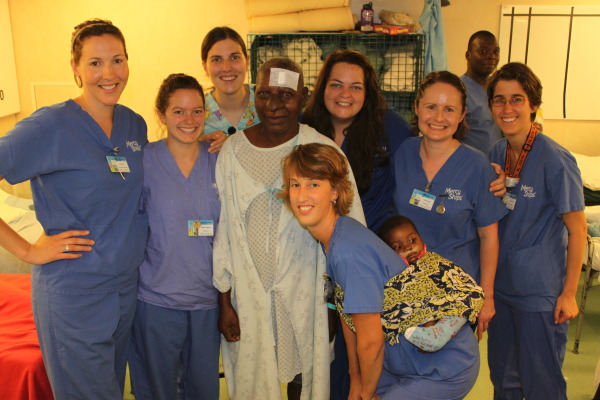 We celebrated all morning, wide smiles on everyone's faces every time they looked over to his bed to see him slowly beginning to pack his things. We printed out the pictures we've taken to mark his journey while he's been here. We made sure he had the supplies he needs to keep his new nostrils clean and open.
And when the Patient Life team came into D Ward, we had a party.
The drums were pounding as we clapped and danced and worshipped together, nearly blowing the roof right off that place. As we came to the end of the singing, I felt very strongly that we should pray over Papakey, and the team agreed. They pulled a chair to the centre of the room and had the dear old man sit in it while we gathered around him and laid hands on him. Together we raised our voices and prayed life and protection and continued healing over him. He sat quietly, palms clasped in his lap, nodding solemnly as he caught words and phrases among the cacophony of requests going up around him.
When we finished praying for Papakey, Kodjovi, a patient from the other side of the ward, approached and asked if we could pray for him since he was having some pain. He sat in the chair, we gathered around him and we prayed for him, too. One by one the patients came forward, settled themselves in the centre of the group and voiced their requests. Healing. Safe travel. Encouragement.
Dame got out of his bed, feeding tube pinned to his gown, and told us how he had stopped going to church a while ago, how he couldn't see the need for God. Rebecca translated quietly to me as he spoke.
And then I came here. I saw how you care for each other, how you care for each of the patients. I saw the way you love, and I can see the way Jesus loves.
He dropped into the chair and looked up at us.
I want you to pray for me so I can love like that.
After Dame, it was my turn. The Patient Life team prodded me towards the chair and told me it was time to pray for me and for the baby inside me. I sat in the middle of my ward, surrounded by nurses and translators and counsellors and patients and they all put their hands on me and started lifting us up to God. As they started to pray, Poppy, who had been quiet all morning, responded, jumping around inside me with a strength I've rarely felt before.
I left that chair filled with a joy that's impossible to put into words, no matter how hard I'm trying right now. When I head for the States in just two and a half weeks, this morning is a treasure I'll have tucked deep into my heart, something to carry with me when I'm far from this place.
Because there's something so
right
about the way God made us to live in community with each other, to rejoice with each other and to carry each others' burdens as we walk towards the Kingdom. Today, down on D Ward, I caught a glimpse of what it'll be like when we're all finally Home. I honestly can't wait.