After such a long silence, here's the state of things as of this morning.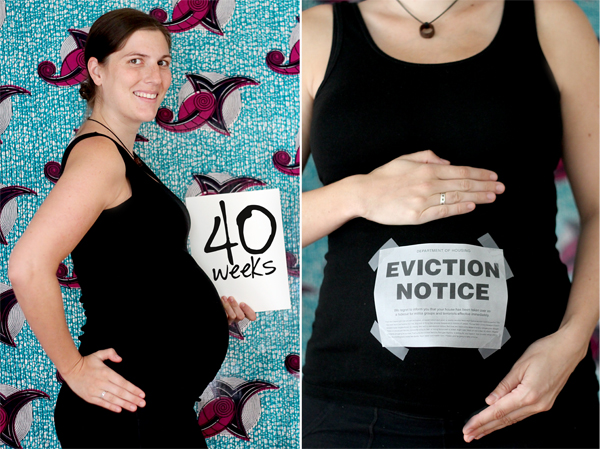 Today's the official due date, but since only around five percent of babies actually make an appearance on their long-awaited day, I'm very staunchly
not
getting my hopes up. In fact, Poppy seems awfully comfortable in his/her little home and is making no moves towards heading for the outside, despite everything being ready for the big arrival. Clothes have been washed and folded, the borrowed bassinet is set up at the foot of our bed, and stacks of washcloths and towels and burp cloths and myriad other soft things, the fruits of a frantic few weeks of nesting in the company of my mother's sewing machine, are tucked neatly in the closet.
And with that, the real waiting begins. Up until today, we've been looking forward to just that: to today. But after the calendar turns over again we'll be on the other side, just drifting and waiting for this kid to decide it's time.
I find myself increasingly introspective these days, trying to wrap my head around the paradigm shift that's about to hit my life. The HoJ arrived on US soil a couple weeks ago, so we've been spending much-needed time together, reveling in the final days together when it's just us. The final days before everything changes. We go on long walks and eat at our favourite restaurants and I'm sleeping as much as I possibly can. (Not always the easiest task with a tiny elephant jumping around on my bladder, but I'll take what I can get.)
We are in limbo, in some sort of time-between-times, where we stand with our toes on the edge of an uncharted ocean. I cherish the time that remains but I ache to dive in, to come face to face with the little one whose feet are currently walking their usual beat under the right side of my ribs. I want to be on the other side of this waiting, to wade through the fog of sleep deprivation and muddle through the impossibility of newly-minted parenthood.
And so we wait. The next time I post will probably be to share Poppy with you all.
I hope that post comes sooner rather than later.