Every other Tuesday is milk distribution day for the
Babies Without Milk
program here in Conakry. This morning, we decided to take advantage of the fact that we had milk to deliver for Alseny and loaded up three mamas, three babies, one husband and a photographer/navigator to make what should have been a forty-five minute trek out to Dania's house. We were all in good spirits; the girls were happy in their carseats, we had directions from Estel, and we were desperately looking forward to snuggling some babies.
Which is when Africa stepped in, as she usually does, throwing curveballs and monkey wrenches into our best-laid plans and turning the excursion into one of those experiences best filed under
This is going to be a funny story someday. If we survive.
The Africa Mercy is docked in a port that's at the bottom of a long, thin peninsula, cut through by a four-lane highway. In order to expedite traffic, all four lanes run in one direction, either towards the port or away from it, at various points in the day. There are no lights, signs, or signals of any other sort to indicate when this is the case or to tell you which direction you should be going. We found out the hard way when we merged onto the motorway and realized that all the traffic was coming straight towards us. Unflappable John (Tracey's husband) executed a neat three-point turn in the middle of the highway, we booked it back up the on ramp and started out on the grandmother of all detours.
There are also no street signs (and often no pavement at all), further complicating matters when the little piece of paper that served as our GPS contained directions such as
turn left at the market
(there are many) or
go a long, long way on the autoroute
(tried that; it was nearly the end of us). So we took the scenic route. Through the dense crush of market-goers, past women hanging clothes out to dry and babies bathing in buckets, over potholes and next to herds of cows and goats we drove while the babies took it in turns to scream and several of the adults succumbed to motion sickness.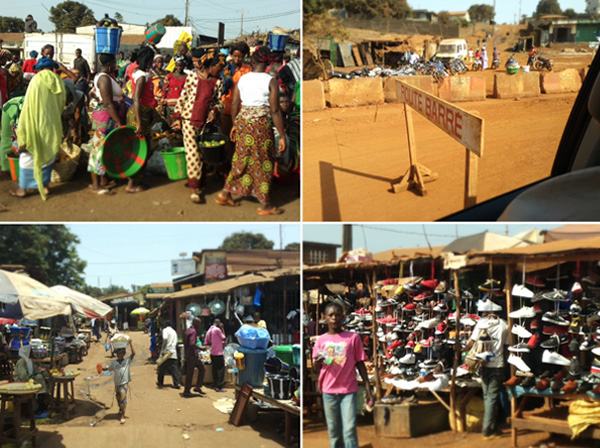 To be totally fair to the other babies, it was mostly Zoe doing the screaming. Red-faced, lip out, crying sads screaming from eight o'clock until sometime after ten. For a child who rarely cries, these two-plus hours felt like eternity. We eventually determined what was wrong with her when she vomited everywhere; it would appear that my poor little girlie gets as carsick as her mama, and the entire contents of her stomach from the last few days seem to have paid the price. (Yes, I took a photo of my child crying. I couldn't get her to stop, so I figured I'd better at least get proof for the inevitable blog. I am nothing if not thorough in my reporting of life to you all.)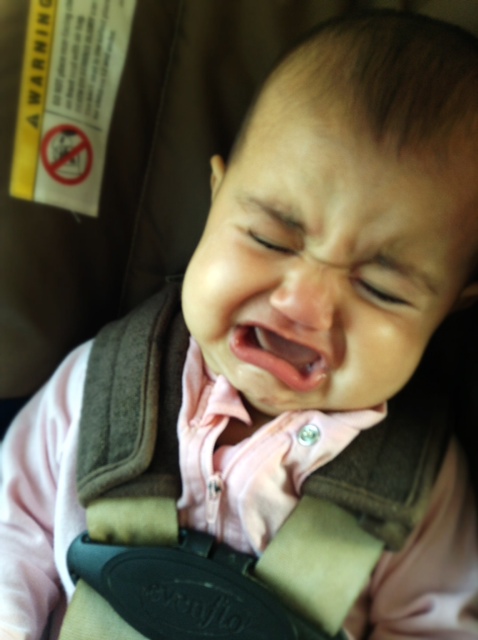 It's hard being stuck in a barely-moving vehicle, crammed in like sardines, while someone screams and you have no idea where you're going. It took a lot of time at a standstill, nearly being crushed by trucks that were far too large for the narrow streets they were squeezing through, several police officers (it was
really
hard to understand the toothless one's French), a kind passer-by who was willing to lead us back to the main road, a questionable jaunt up a dirt road past a sign clearly stating that we were to do no such thing, and Estel herself coming out to meet us, but like all
terrible
good things, that drive finally came to an end.
Team Front Seat was overjoyed. Team Back Seat had mixed emotions. And I'll just let Zoe sum up how Team Middle Seat felt about the whole thing.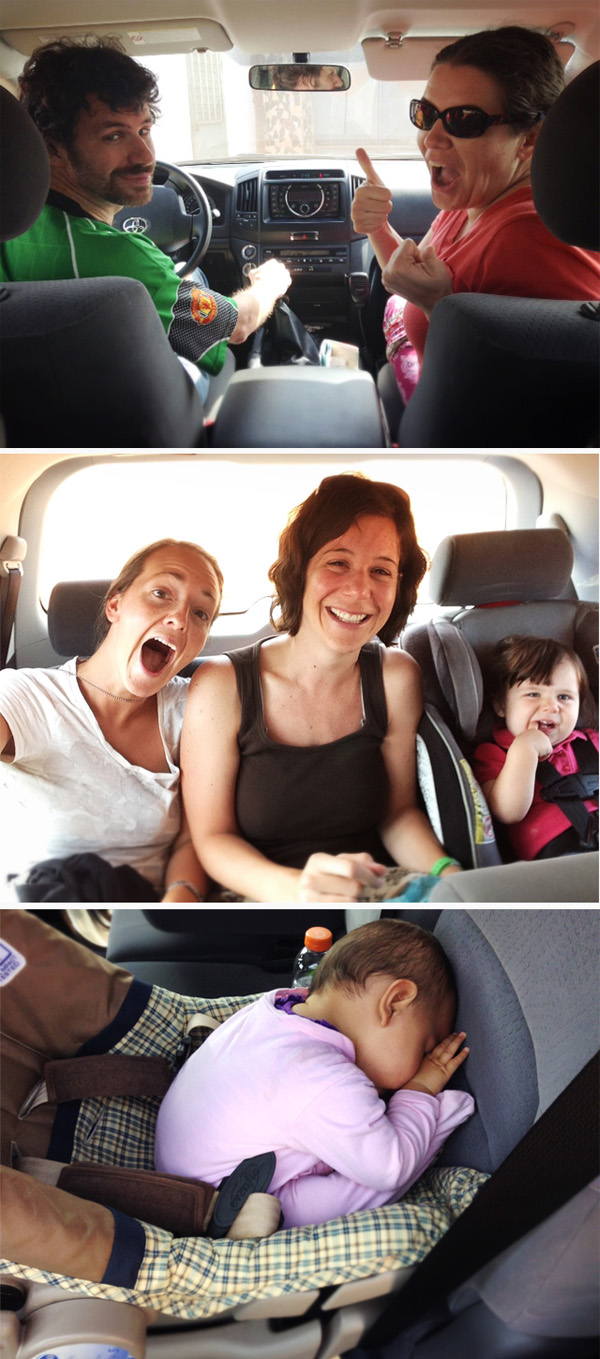 But, oh, was it ever worth it.
Every two weeks, as many as two hundred babies flock to Dania's house, a small building somewhere off a dirt road in Conakry. They come in the arms of everyone but their mamas because their mamas are all gone. The women take a number, sit in the sun and wait to be called so they can receive two cans of powdered milk for the babies they've taken in. They are aunties and cousins and sisters and neigbours who have opened their hearts to these motherless little ones, stepping in to care for them after their mamas pass away. While we were there, a new little boy arrived, his auntie pushing her own grief aside as she quietly related the details of her sister's death just this morning.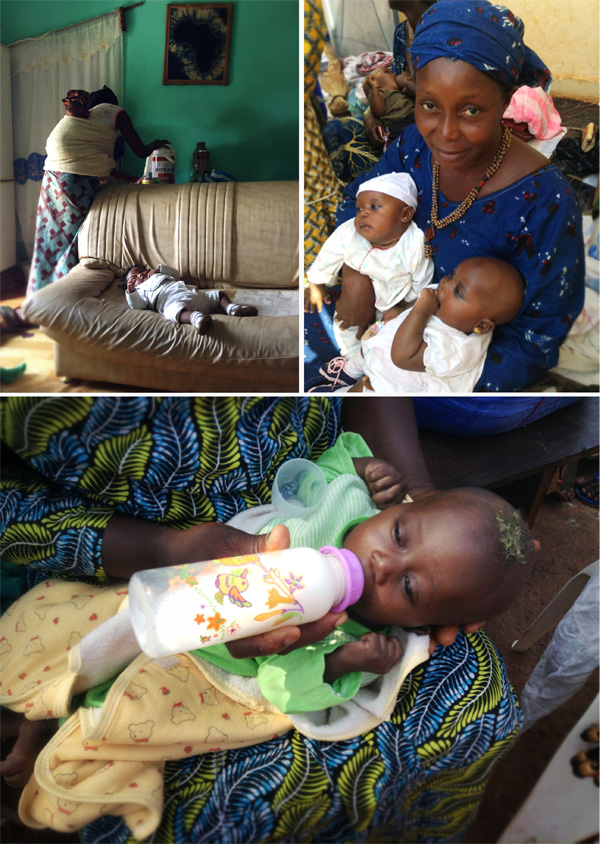 That tiny courtyard was full to the brim with heartbreak and hope. I saw them both collide with a force that nearly took my breath away when I looked up to see Tracey, smile as wide as the sunrise, cradling a tiny bundle of arms and legs and round, brown cheeks.
This is him,
she told me, and of course I knew exactly who she meant.
Alseny has been living with Dania since his mama died. He's going to be up for adoption eventually, but there's a six-month waiting period and a residency requirement for adopting out of Guinea, so unfortunately there won't be any little stowaways coming with us when we sail for the Canary Islands in June. But we brought three coolers full of milk for him, nearly two hundred ounces (the vast majority of which was Tracey's since Zoe's been a bit of a hog with hers recently). And when he opened his big, dark eyes and started smacking his little lips, Tracey sat down right there in the middle of the crowd and nursed him.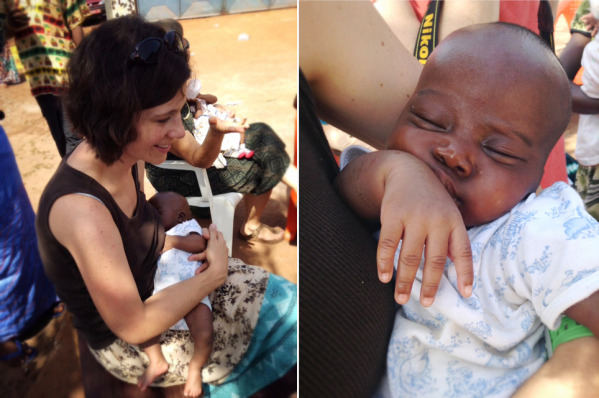 Life ebbed and flowed around them, children playing, babies crying, aunties and cousins and sisters and neighbours talking and laughing, and I could almost see God holding it all in the palm of His hand. As I stood there and watched that little orphaned baby fill his tummy, I wanted to slip off my flip flops and dig my toes into the dirt, knowing somewhere deep down that Dania's courtyard was a holy place today.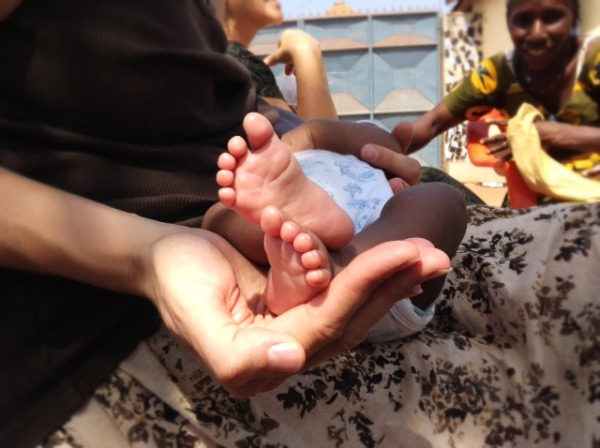 We feasted on rice and fish and peanut sauce under the shade tree and bundled the tired girls back into their seats for the drive home. It was uneventful, and Zoe surprised us all by chatting to herself and then taking a nap, which was a welcome break for our ears. We made it back to the ship a little after lunchtime with empty coolers and full hearts.
It was a good day. One of the best so far.