It's nearly eleven at night. Zoe and the HoJ are both fast asleep, and I know I should be in bed too. But I have something amazing to share with you.
If you've been reading since the beginning, you probably remember
Baby Greg
. He was one of the first ones to steal my heart, one of the first ones to shatter it when he went back to Jesus. Before that, though, while we were fighting for his life, we had to figure out a way to help him breathe in the absence of a ventilator that could function the way we needed it to. I remember calling my hospital back in the States in the middle of a long, dark night while we watched him gasp for air, carefully writing down the instructions that a respiratory therapist relayed to me across the miles.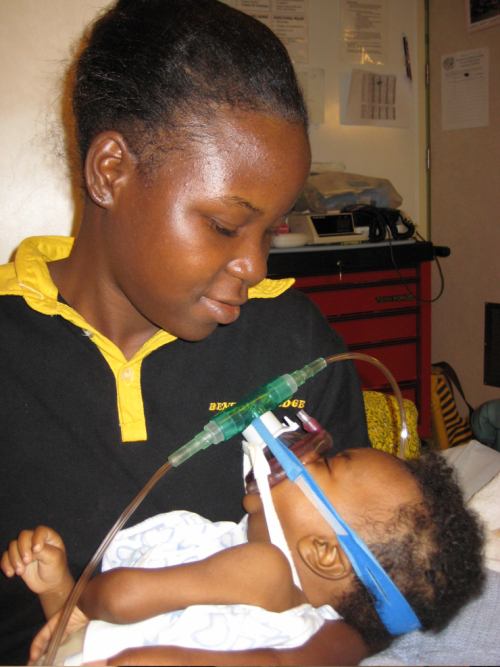 Before long, we had Baby Greg hooked up to an improvised bubble CPAP setup, and for the next month, we kept his oxygen levels up without any mechanical help. In the end, it wasn't enough, and we had to let him go. I've wondered many times why God brought him to us in the first place if it was all going to end the way it did.
Fast forward nearly five years.
In the interim, I've become friends with a missionary in Ethiopia. I can't remember how it happend; like so many other friendships in my life, it seems like I've always known
Sophie
. She and I follow each others' blogs and correspond back and forth about life in Africa, me on a ship and her in a little house on land on the other side of the continent.
She's friends with
Dr. Dave
, a pediatrician at the
Soddo Christian Hospital
. A couple months ago, Sophie got in touch with me on behalf of Dr. Dave. There was a newborn at Soddo Hospital who couldn't maintain his oxygen levels, and she was wondering whether I could pass on the information about the CPAP setup that we had used for Baby Greg.
I quickly drew out a diagram and e-mailed it to Ethiopia.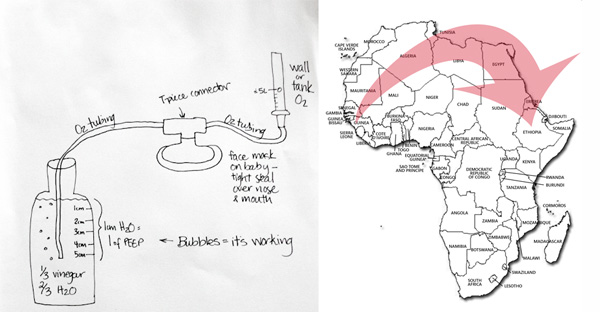 A little while later I heard back from them, letting me know that they didn't have the right parts to make the system work for that little one, but that they had managed to sort things out in other ways.
This morning, I heard from Sophie again. She had just received a text from Dr. Dave.
Bubble C-pap rocks--5 y/o horrible pneumonia and upper airway trauma ... --sats were 70's on NC now 95 on cpap with much less work of breathing-thank you for using your connections to potentially save this little life!!! Dave
I sit here in my cabin on board a ship docked in Guinea, and over in Ethiopia there's a five year-old whose life might have been saved because I used to work with Laura in the PICU in New Jersey before I came to Africa, and she told me how to rig up bubble CPAP when I was taking care of Baby Greg in Liberia five years ago, and Sophie knew about it because she read my blog, and she told Dr. Dave that maybe I could help.
I have never seen so clearly God's heart for the world as I do right now.
One small child, one life out of billions and billions, and God has moved heaven and earth to save that life. I can almost see the shining threads connecting us all, spanning the continent and the oceans and the years. And as I watch, I see those threads stretch and multiply until they cover the entire earth in a brilliant web of pure gold.
God is not silent. He is not idle. He weaves our lives together in the most unexpected and intricate ways, laboring tirelessly on behalf of the small and the forgotten.
Humbled, I watch Him work, holding on to my end of the thread as He takes it and makes it into something beautiful.