I found out I was pregnant with Zoe during the season of Advent. Week by week we lit candles and celebrated hope and joy and peace and love, and every single time those small flames flickered to life, I felt all the beautiful impact of the words. It was precious and holy, and I know that it was a gift from God that I got to experience the beginning of her life in such a perfect way.
Ethan's diagnosis came during Lent, in the season leading up to this past weekend when we turn our eyes to the cross and the grave and the skies, and I sit here with shaking hands, trying to receive this as the same kind of gift when everything inside me wants to scream at the thought of death.
I wanted to start writing about this on Sunday, but how can grammar and syntax possibly convey the fact that, for the first time in my life, I feel like I finally entered into the darkness of the days that came before that first Easter in a real, gut-wrenching way?
Zoe's been sick, which means my nights have been spent mostly awake, holding her, and as the long hours stretched by, I couldn't stop thinking about another mother, thousands of years ago, watching her son being tortured to death. I couldn't stop thinking about the God who was letting it happen, the God who turned His back at the worst of the pain, the God who threw the entire world into darkness because it was all too much.
I sat there for long hours, waiting for Easter morning as the nights stretched on forever, holding one of my children and begging for the life of the other, desperate in the darkness in a way that only a mama faced with the suffering of her son will ever be able to understand.
And then Sunday came, like it always does after Friday and Saturday. Zoe was still sick, and so we didn't get to go to church to celebrate with the rest of the family. Instead I found myself in tears in the quiet house, Easter looking nothing like what I expected.
I wanted it to be perfect, a radiant morning filled with joy and laughter and the hope that the resurrection brings, but after that weekend? All I felt was tired. Worn out. Unable to believe that there was any way that things could actually be okay.
I wonder if that's how they felt, those thousands of years ago, the ones who loved Him most and watched Him die (or turned away, which is something I can finally understand, because sometimes you just can't anymore). When that Sunday morning rolled around, was there any hope left in them, or had it been drained away in the long hours of grieving what they'd lost?
Mary, searching for Him alone in the garden in the early morning, didn't even recognize Him when He stood in front of her. Was it because her eyes were still filled with tears, swollen from yet another night spent weeping into the dark? Thomas needed to see the nail marks, to put his hand in His side, before he could believe, and this, too, makes sense to me now in a way it never did before.
Because hope is such a dangerous thing when the opposite is the unthinkable.
And this is where the truth of the resurrection becomes the anchor I cling to in this storm. Despite a weekend that must have seemed like a lifetime spent in the haze of sadness and pain, Sunday still came. Do you hear me? Sunday still came in a blaze of light and a stone rolled aside and a man who was really God turning His back on the grave.
This is God's heart for the world. Not pain or suffering or weary days spent enveloped in grief. An empty tomb, a risen Saviour, the brokenness of the world being pieced back together, one tiny shard at a time, by the One who gave everything so that He could see us made whole again.
I know there's more to this, the He's going to be showing me His heart in a thousand ways over the coming days as we fight for Ethan's, but for now it's just this, echoing in my head with every breath: Sunday always comes, no matter how tear-stained and defeated I might feel. Sunday always comes.
-----
Before I left Toronto yesterday, my brother came outside holding this enormous, ugly stuffed gorilla and told me that he wanted Ethan to borrow it. The gorilla's name is Choppy; it was given to my big brother when he was just a baby, when he had the hole in his own heart repaired by the surgeons at CHOP. I won't pretend that I didn't bawl right there in the driveway.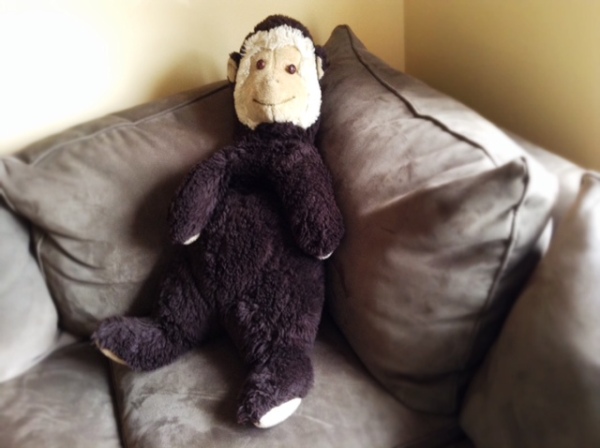 I'm leaving in about an hour to head down to Philadelphia where I'll meet up with some friends from the ship for a mini reunion before my day of tests and consults and meetings at CHOP, which starts at 6:30 tomorrow. Prayers for a cooperative baby, wisdom from all the staff, and clear direction about the path going forward would be more than appreciated.